What Might We See On A Wildlife Tour?
Our guests frequently ask, "Which season do you like best?"
Our answer: "They are all uniquely beautiful!" To help you make your decision, the following information gives a basic idea of what to expect with wildlife and weather every two months as each part of the year has something wonderful to offer. 

Please contact us if you are interested in a formal trip planning session that will save you much time, energy and confusion!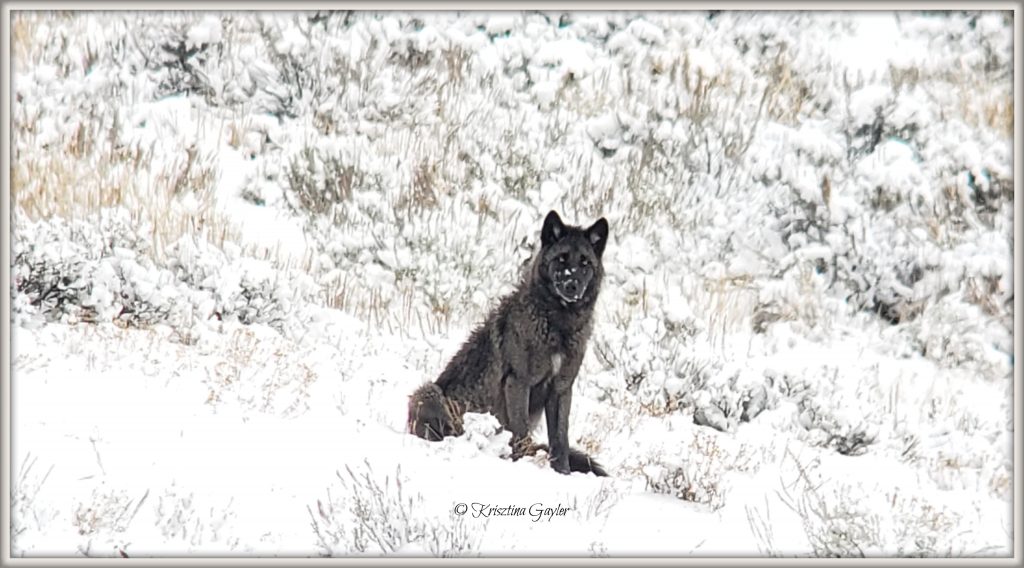 January & February
The first breath of the winter morning air invigorates us as we head into the Park before sunrise. Although dark, we still might see a small "herd" of moose peeking through the trees or a little ermine darting about. A bright ball of orange is a colorful surprise when we find a sleeping red fox on the Valley floor. The famous wolves of Yellowstone go into their mating season, giving us displays of power and excellent opportunities to study the behavior and hierarchy of the pack. Bald and golden eagles perch in the hoar frosted trees awaiting their next meal and the raucous sounds of ravens often lead us to an exciting discovery.
---
March & April
The bears are back! As the rivers begin to trickle and kettle ponds thaw, we look for hungry grizzly bears on the prowl after emerging from their winter torpor. Little by little as the snow melts, grass is uncovered and although the Park is quiet, the animals know that spring is on the way. Uinta ground squirrels begin coming out of their underground winter homes and the yellow bellied marmots stir under their rocks. The rattling call of a sandhill crane tells us that the tallest of the Yellowstone birds are back and will begin their famous courtship complete with jumping and "dancing". By late April, spring teases us with its slight debut as we prepare for the busiest months of Yellowstone.
---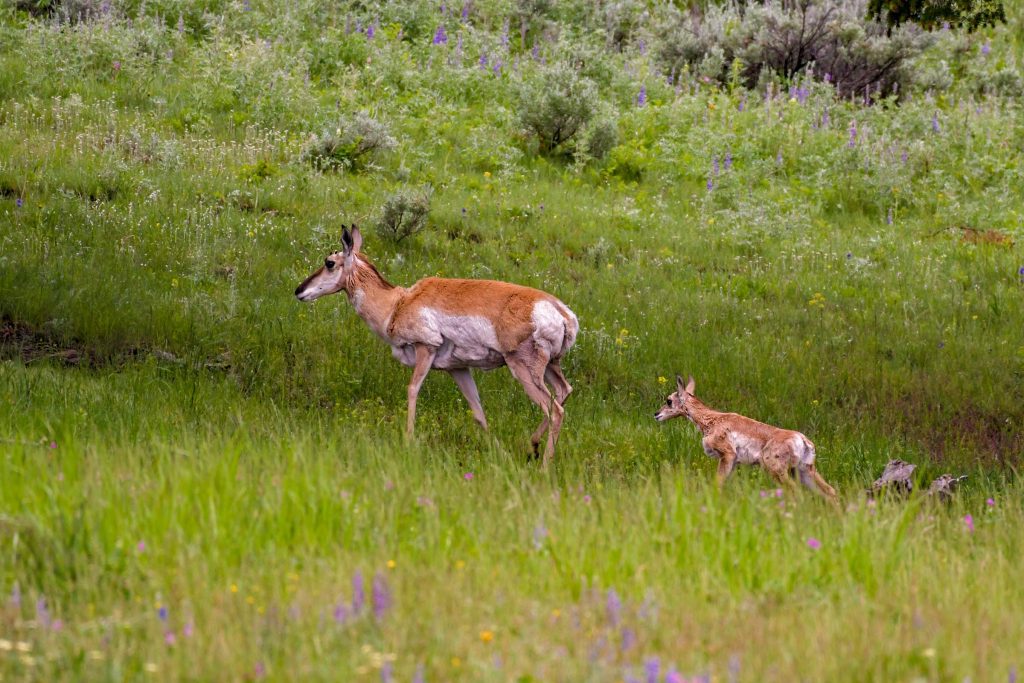 May & June
Springtime is baby time! Wobbling bison calves, romping bear cubs and elusive wolf pups delight us this time of year as the season welcomes back the melodies of dozens of migratory birds who call Yellowstone their home for the season. Pronghorn return to the Valley and we can once again find the mountain goats as the snow begins to melt at the higher elevations. Larkspur and Balsamroot abound in the green grasses with purple and yellow as Yellowstone explodes with the vitality of the season.
---
July & August
It's not a roaring lion but the bellowing of bison! As the bison bulls combatively compete for the females, it's an exciting time to watch their show of power and strength. In mid August, we listen for the spine tingling howl of the wolves as the packs communicate with their young around Lamar Valley. An explosion of colors in the high meadows and the sweet scent of sage fully engage our senses along with the amazing wildlife.
---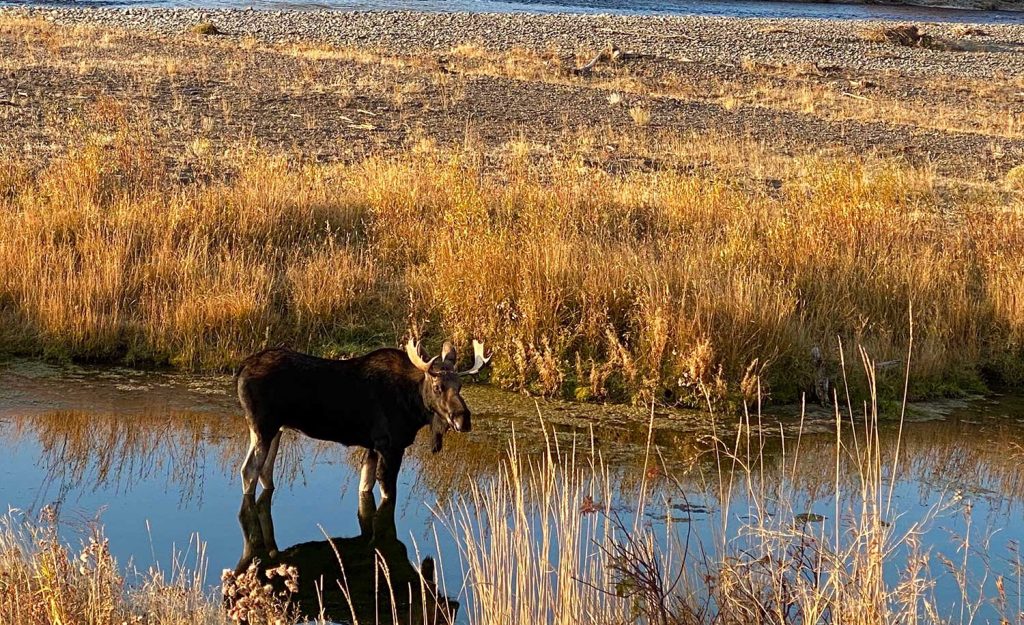 September & October
The eerie pitch of a bugling bull elk or the resounding clash of moose antlers tell us it's fall in Yellowstone. The bull elks give us quite a show as they round up their "harems" and go into their mating season. Trees and bushes turn to reddish golds as the grizzly and black bears gorge during their preparation for the winter. The wolves of the Northern Range become increasingly active as the pups frolic with each other, finding their positions within the pack.
---
November & December
Considered to be "shoulder season", November is one of the quietest months of the year for visitors as most of the entrances close to traffic for the winter. But in Lamar Valley we might see pouncing foxes as they hunt for rodents, rutting bighorn rams crashing headlong into each other and otters returning to play in the rivers. The feel of winter tells us that soon our December days will be filled with sparkling diamond dust. Tracking in the snow we might just find the trail of an elusive bobcat or mountain lion!
---
Helpful Hints
There's no such thing as bad weather; just bad preparation!
Being at high elevations means we can have inclement weather at any time, in any season. An important part of our job is to be sure you are prepared for your time with us and since Yellowstone is almost 1.5 miles above sea level, cold mornings are always a part of the experience.
Basic Quick List
Filled Water Bottle
Hats and Gloves
Sunglasses
Layers
Long Pants (no jeans if hiking)
Sturdy Shoes or hiking boots
Sunscreen (fragrance free, please)
Camera
*Your guide will have bear spray, binoculars and spotting scopes.
And the details…

WATER
Please buy and bring your own water bottles (lessen the use of plastic) as there is plenty of drinking water and water refill stations around the Park. Drink 2-3 times more than you usually do since we have plenty of places to go to the bathroom, too! We won't make you hide behind trees (unless you want to).
WARM, THIN LAYERS, HATS AND GLOVES ~ Even in the summer!
Do you know how many months of the year it can snow in Yellowstone? TWELVE!
You can never have too many layers; just shed them as needed. Surprisingly, even in July and August the early mornings are freezing cold before we have up to a 50 degree shift throughout the day.  Long pants (no jeans as they don't dry well) and sturdy shoes or hiking boots are important for your comfort as we tour and sometimes hike on uneven terrain searching for wildlife. 
SUN PROTECTION
Hats, sunglasses, long sleeves (a physical barrier to protect your neck and arms is often more effective than a chemical barrier) and non-spray, non-toxic sunscreen, if possible. Sunscreen on your face in the winter, too.  High elevation means that UV rays can be almost twice as intense as they are at sea level!
SAFETY
Professional guides carry bear spray year round. We're not allowed to outrun you…even if we could! Seriously though, when you tour with us, we will have spray for you and teach you how to use it, too. Your safety is our priority and you need not worry when touring with us. There are bear spray rentals and drop offs around the Park in case you decide to hike on your own. Please remember to try to hike in groups of three, make noise in the woods and always be observant.
HEALTH
Pay attention to your breathing and how you are feeling physically. Slow down and take long, deep breaths if you feel dizzy or experience any shortness of breath. Please drink plenty of water!

Most of all, be prepared for an adventure and lots of fun as we work to give you the experience of a lifetime in Yellowstone National Park!